Indonesia extends Covid-19 restrictions to July 25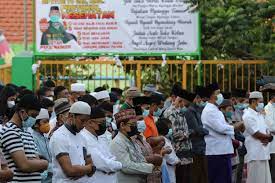 Indonesia will extend its restrictions to curb Covid-19 to July 25, President Joko Widodo said in a speech streamed live on Tuesday.
Indonesia implemented restrictions in the beginning of July in all provinces on two of the country's main islands, Java and Bali, then expanded them to 15 districts and cities outside of those two islands as the situation worsened.
The measures closed mosques and churches and allowed restaurants and shopping malls to open only until 5 p.m. local time and 75% of non-essential workers must work from home and school education has to be done online. The restriction was to expire on Tuesday.
"Since the Emergency Restrictions were implemented, the new cases and the bed occupancy in hospital has decreased," President Widodo said. "If the trend of cases continues to decline, on July 26, 2021, the government will gradually open the restrictions."
On Tuesday, the country reported at least 38,325 new cases and 1,280 deaths, bringing total number of cases to 2,950,058 and total deaths to 76,200. Only 6% of its population are fully vaccinated, according to the ministry.
On Monday, Indonesia reported 1,338 Covid-19 deaths, the highest daily number since the beginning of the pandemic, according to the ministry.
Fonte: From CNN's Jake Kwon and Masrur Jamaluddin